The latest in Technology Development
Genesis Program Featured: G- SERIES® Roll Stands
Genesis Program Advantage:
Complete extrusion systems shipped in as little as 12 weeks!
Scalable Systems That Evolve With Changing Demands
A component of the Genesis Program, the G-SERIES® Configurable roll stands are ideal for a wide range of sheet processing applications.   In addition to an emphasis on maintaining accurate cooling temperatures throughout the extrusion process, the G-SERIES® Configurable roll stands offer many advanced design features that simplify operations, modifications, and expansion.
Built on an expandable frame, PTi roll stands permit greater flexibility and significantly reduced downtime for system modifications. The unique design concept easily enables downstream configuration changes for inline thermoforming and rollstock applications, with implementing modifications taking just hours with minimal re-engineering and reduced downtime.  Furthermore, it enables manufacturers to change the order of downstream operations within a system, even providing potential for sharing modules between other compatible G-SERIES® Configurable systems.
Read Below for System Details…
Available Roll Stand Configurations
GCVD661830- A vertical down configured roll stand, suitable for heavy gauge PP or high output inline PET applications.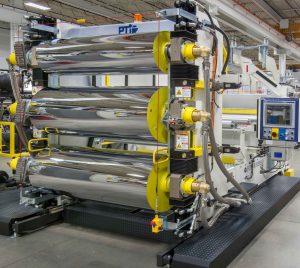 GCVD661824- A vertical down configured roll stand, ideal for medium gauge PP or PET.
G-SERIES® Configurable roll stands within the Genesis Program are available for product widths of 66″(1675 mm) and can produce sheet thickness of 0.006 to 1.000″ (0.15 to 25.00 mm).
PTi® multi-patented configurable roll stands offer the most advanced technologies available in the industry, both as standard and optional features, with an emphasis on ease of operation and safety.  The technologies include:
Chrome Roll Skew Mechanism

Safety Lock-out Device

Manual Gap Positioning Device

Vertical Nip Height Positioning Mechanism

Linear Bearing Roll Stand Traverse
GCVD661830- A J-stack configuration, well suited for extended cooling requirements, low melt strength applications and thick sheet requirements.
The Genesis Advantage:  
Lead Time Reduction Means Rapid Gains in ROI
Established as an expedited delivery initiative, the Genesis Program's inventory of extrusion machinery and ancillary components provides complete extrusion systems in as little as 3 months!*   This is a critical factor for return on investment (ROI), considering short production lead times will accelerate the product to consumer revenue generation.
For details regarding the Featured Line in this edition, other system configurations or how the Genesis Program can benefit you, please contact your local PTi sales representative or call 630.585.5800.
* Delivery times dependent on stock availability.
Click to Download PTi Extruders Genesis featured Roll Stands Copyright © 2020 Processing Technologies Int., LLC